It goes without saying, but buying a home goes beyond just wood, brick and concrete! In fact, it's a relatively complicated transaction that requires several real estate professionals to protect you. The notary is a key player on your team. But what are the notary fees for buying a home? That's what you'll find out by reading this article.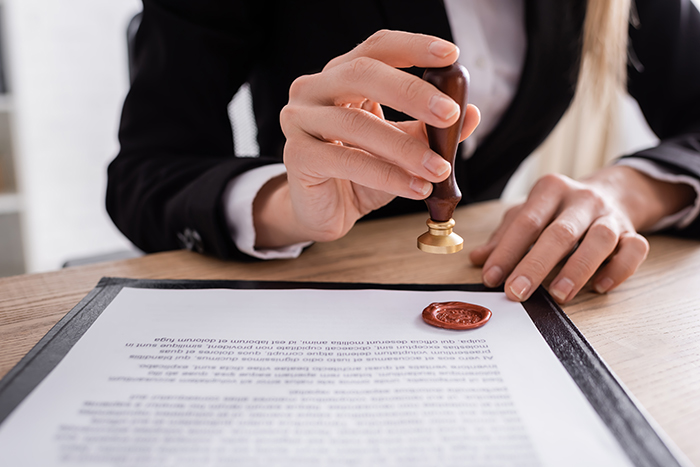 1. A notary's role in real estate transactions
A notary will verify, prepare and sign many legal documents, such as:[1]
Title deeds
Notices of address
Deeds of hypothec
Bills of sale
In Quebec, you must hire a notary to complete a real estate transaction. In most cases, the buyer chooses the notary.
2. Notary fees to purchase a home
Generally, a notary's real estate fees range from $1,500 to $3,000.[2] They may also differ between purchases since these fees aren't governed by law. Depending on the situation, the notary's fees may be split between the buyer and the seller. The buyer usually pays most of them, but the seller may be required to pay the fees to write off existing liabilities and title corrections, if required.
3. Transaction fees and professional fees
Usually notary fees are split into two categories, transaction fees and professional fees.
In addition to drafting the above documents, the transaction fees include many taxable and non-taxable expenses, including costs for:[3]
Consulting the index of immovables, plans and deeds in the land register
Using various online platforms
Managing accounting for the escrow fund
Professional fees include consulting services before signing the promise to purchase, reading the deeds, preparing the mortgage and sale documents, publishing the notice of address and obtaining signatures from both parties. These fees are billed at an hourly rate that may vary depending on the notary's expertise, complexity of the transaction and degree of urgency.
4. Preparing for the meeting with the notary
The buyer and seller must provide some documents to prepare for their meeting with the notary and avoid unnecessary research. They'll have to provide:[4]
The title deeds
The up-to-date certificate of location
The status of municipal and school taxes
The civil status certificates for each of the parties
Once the notary has this information, they will check for any irregularities and make sure to fix them if needed.
Ultimately, a notary's work guarantees your real estate transaction will unfold under the best possible conditions. When seen that way, you can see that notary fees are an investment rather than yet another expense to purchase your home.
Source: Centris